Talk about a must have: this house and everything in it deserves its own photo shoot. But on a recent getaway to wine country, the stunning Glen Ellen, CA, home happily served as our backdrop and our base camp. Read more.
Last week, PopSugar editors Molly Goodson, Nancy Einhart, Lauren Turner, and Susannah Chen took a vacation from our regular lives and did our best to cram a weekend's worth of vacation into just one day. The four of us joined our fearless leaders, Brian and Lisa Sugar, for a day of wine tasting, enjoying pastries by the fire, poolside lounging in the afternoon sun, and partaking in a mind-blowing meal.


Perched atop a promontory overlooking Sonoma, the home of Kevin McSpadden and John Fernandes, husbands and founders of ThinkBrandNew, both embodies and redefines wine country style. A mix of midcentury modern gems, cozy and rustic touches, and stunning showshoppers like a century-old Chinese farm table surrounded by wishbone chairs, the decor merges sophisticated tastes and bucolic charm, like Glen Ellen itself.
Fatefully, soon after the couple purchased the home in 2004, they got a call from a neighbor saying the house was on fire. The culprit: a fireplace-ash mishap. Says McSpadden, "It looked like something out of a Michael Bay movie." Nothing survived but the beams. Rather than admitting defeat, the couple rebuilt it as their dream house.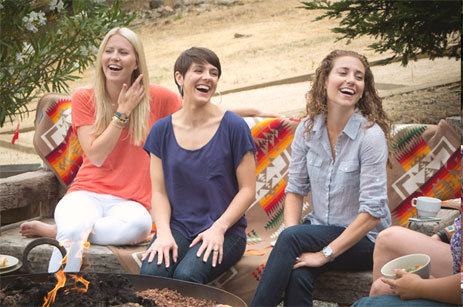 When we arrived, fog surrounded the twin cupolas, but we didn't mind: we had design-fiend eye candy and yummy French pastries to distract us. As the sun peeked out from the gloom, it was time to get down to the business of our photo shoot — and our wine tasting. We changed into our Summer dresses and, along with photographer Claude Shade, headed to Benziger Family Winery.
"It's fine wine and artisanal food at half the city's pace."
Susannah Chen, YumSugar editor
Ask anyone who has been to wine country, and she'll agree that it's hard to find a winery with everything you want: "It's really about getting together with friends, tasting wine, being outside, and enjoying the vineyards," says PopSugar associate editor Lauren Turner. Benziger boasts a chic tasting room, generous pours, and a place to picnic surrounded by rolling vineyard hills. It was just the spot to snack on a baguette, some cheeses, and plenty of wine.



Next, we returned to our temporary Glen Ellen home for some Benziger rosé, sliced veggies, and watermelon. The salt-water pool provided a perfect break from the pace and chill of the city! After a bit of touching up and wardrobe consulting, we drove a short distance to Glen Ellen Star, an unassuming Italian restaurant that combines wood-fired cooking and exotic flavors in a truly novel way. The thoughtful menu comes from Ari Weiswasser, a veteran of The French Laundry and Restaurant Daniel, who also happens to be married to Erin Benziger-Weiswasser (yes, that Benziger). Pizzas are cooked on madrone and oak from the property, and side dishes like grilled padron peppers blasted our palates with spices sourced from New York's La Boîte à Epice, owned by a friend of both the Sugars and the chef. Everything else is sourced locally, of course.
"Wine country is ground zero for the best produce, dairy, and, obviously, wine. It makes our job easier."
Ari Weiswasser, Glen Ellen Star owner and chef
We could say the same thing about gourmet pizza and a bottle of wine.
— Nancy Einhart